Robert's Photography
& Video Services
Presents
Pictures of Port Charlotte Florida

The Fathers Day Bud-Load !
.
My Fathers Day morning started with a quick stop at Southern Trust Auto Outlet where ClearChannel Radio & Kix Country 92.9 was sponsoring a Fathers Day Event where
you could win a variety of prizes including things such as Budweiser Beer for a Year !
And since it was on my way to the Hibiscus Festival I thought I'd stop and register.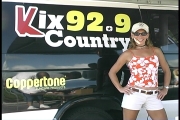 pictures of punta gorda florida
The KIX Country van showed up early and set up for a live broadcast with this amazingly long
antenna which telescoped up through the roof of the van. (Gotta watch those branches though)
You had to register for your chance at one of 92 keys they gave away,
courtesy of Punta Gorda Lock & Key!
pictures of punta gorda florida
Lisa took care of helping people to register to win the big prizes
that were hiding in the bays of the Budweiser truck.
Prizes included things like fishing gear from Laishley's Marine,
a deep sea fishing trip for 4 with Angler's Dream,
a Kirby recliner from Furniture Connection,
a round of golf for 4 at Riverwood,
golf gear from the Golf Doctor,
Hooter's wings for a year,
authentic NASCAR stuff from L&R Racing Collectibles,
a men's Fuji Captiva Cruiser Action Mower,
a gift basket from Port Charlotte Town Center,
a 52 inch RCA projection TV from Appliance Depot & and...
Oh Yeah...
FREE Budweiser Beer for a year!
---
L&R Racing Collectibles in Port Charlotte Town Center Mall helped
sponsor the event with this full color, very detailed NASCAR collectors item.
Everyone was checking out the prizes that were loaded inside each bay of the Bud Truck.
I wanted to stay and photograph the Hooters Girls that were supposed to show up
with FREE Hooters wings for all... but I had to get down to Punta Gorda to
photograph the Little Miss Hibiscus Pageant that was also sponsored by ClearChannel.
Lisa thanked me for stopping by and offered me a tip...
Guess I'll have to design a new sign now.
" Will Work for Wood "

---
Found this sticker on the back of the KIX Country 92.9 van... and thought maybe I'd offer it
here just in case anyone needs a place to remind themselves of this number later
---
LINKS
GO to:
These photo web pages were built with a screen resolution of 1024 x 768
---

This web page and photographs
compliments of
Robert's Photography and Video Services
Experience the possibilities
at
www.sunsetvideo.org

---
Need a photographer for your next event ??
Robert Shainline
P.O. Box 906
Cape Haze, FL 33946
(941) 697-6664 - Home & Office
(941) 697-1238 - Office & Modem..
---
Pictures of Englewood Florida
All photographs copyrighted by Robert Shainline 2004