Winterfest 2003 was a huge success
At 9:00 am, there was already a line up of cars to get into the sports park.
Volunteers collected a $5 parking fee which paid for the event.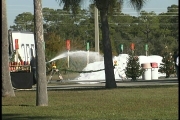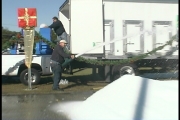 Ever wonder where snow comes from?
Well, here's Mr. Snowman himself... above right you can see a man
in the back of the truck dumping bags of ice cubes into a special
mixer that crushes the ice and blows it out into.... well... almost snow !
The big draw was that 80 tons of snow was being created
at the Charlotte Sports Park so that kids could have a
"snow day"
just like the kids up north.
Only difference is that these kids don't get a day off of school.
So while kids in New York and Pennsylvania were trying to dig out of the snow...
the kids in Charlotte County Florida couldn't hardly wait to dig in.
When the snow making was complete... the first group of kids went up the hill
to make the first footprints in the new snow.
(always my favorite part)
In minutes the mounds of snow were covered with kids slipping and sliding and
pawing their way to the top of the heap. Many of them playing in the snow for the first time...
their little fingers were frozen in a matter of minutes.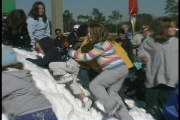 The fun continued while the parents watched and I had to move further
away to avoid getting caught up in the snowball fights that quickly developing.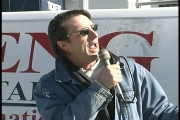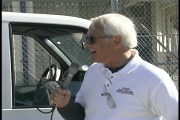 Of course Scott Holcomb and "KB" from WENG talk radio
were there to promote the event and remind everyone to stop for a visit.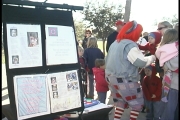 And Pitter Pat was there in her clowning outfit to do "FREE Face Painting"
and the kids were lined up from the time she opened her paints until the end of the event.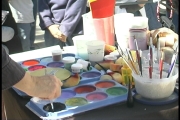 She brought a whole table full of paints and brushes and sponges
and other Pitter Pat equipment. Check out the brush holder...
it's actually a bowl of white rice that holds the brushes apart.
All of these items are available from Pat... except for maybe the rice.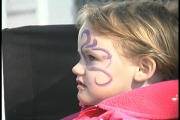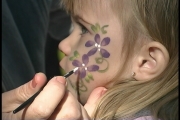 Pat loves her work, and gets to display her artwork
on some of the prettiest faces in the county.
Taking a quick walk around the grounds, there were artists and vendors of all sorts
selling their quality crafts and painted designs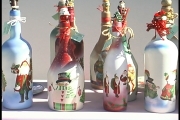 This is Ann and Barb...
I forget which one is which...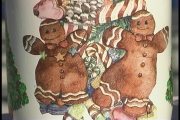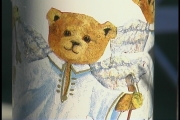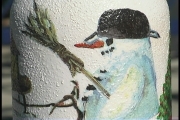 But they paint wine bottles with all kinds of decorative designs
Looking for a great gift? You can reach them at
(941) 483-3217 or (941) 485-4682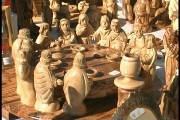 This family carves wooden Christmas Scenes
Sorri... I didn't get their name...
There were lots of other colorful things that catch the eye
like these spinning wind mills made out of plastic canvas and beer cans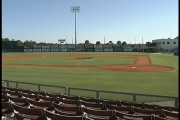 Here's a peek inside the Charlotte Sports Park
along with a picture of my assistant Marie trying to warm up in the sun
Above is Sylvia Plutter Daniels, the artist that created these large painted gourds
and even found an artistic use for those long brown seed pods
that fall from the queen palm
Besides painting gourds, she also does some very nice oils...
this is only a sampling.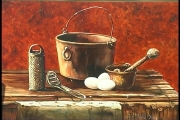 If you have any interest in this work you can contact her at
(941) 629-9320 or email her by clicking here
sylvia9735@earthlink.net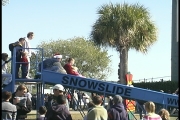 Back at the Snowslide the line just kept growing for a quick slide down the slippery hill
This news photographer was there catching the action from the bottom of the hill
so I assume there were lots of pictures in the paper.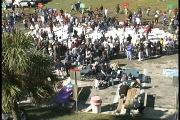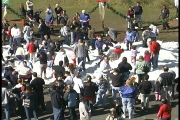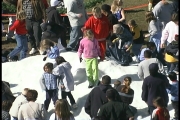 The snow pile was being trampled down... but the kids were having lots of fun.
I wandered off to watch Pitter Pat paint some faces.
Just click below to be instantly transported
to Pitter Pats Face Painting Page.
Remember, all of these photographs are free for the taking...
To save them, just right click on any photo and choose "save image as"
Full sized digital photographs are available upon request...
Just send me an e-mail or give me a call.
---

Robert's Photography
& Video Services
(941) 697-6664
(941) 697-1238
Questions? Comments? Ideas?
e-mail
Shain@sunsetvideo.org
---
This web page and photographs are a free service
compliments of
www.sunsetvideo.org


&
Robert Shainline Video Productions
Robert's Photography & Video Services
SW Florida's most versatile photographer
Would you like to make a donation to our site?
Click here for the address
---
www.sunsetvideo.org
www.sunset-relaxation-video.com
Lower-blood-pressure.com
Member of the
Englewood Executive Network