Hello Englewood...
Here's another of my interesting
Englewood Events - Photo Web Pages
This event occurred on Saturday, November 29th
at the Eason Plaza
2411 S. McCall Road in Englewood, Florida
It started out as the coldest morning of the year,
and it wasn't easy dragging myself out of a cozy warm bed
into the 48 degree air that was waiting for me, but there were things going on
in Englewood today, and I wanted to be there to capture the action.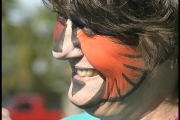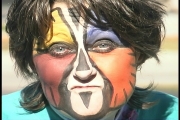 When I arrived at Eason Plaza, I met Pitter Pat from the Review
who was just setting up her face painting booth in the parking lot...
and clowning around as usual...
I think she forgets I can take 30 pictures a second !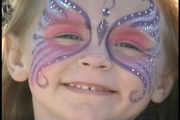 But her face paint is always a hit with the kids.
(just check out the Halloween pages to see lots more)
Then I met "KB" and Scott Holcomb from WENG talk radio
setting up the news van for a remote broadcast from in front of
the participating shops at Eason plaza.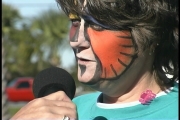 KB interviewed Pitter Pat
and talked about "Sports Face Painting" and the upcoming events.
Seems Eason Plaza has several very high quality small businesses
and they all got together with WENG Radio to sponsor a little promotion
to draw attention to some of the unique shops in this plaza.
The whole event was based in anticipation of the Gators - Seminoles
football game that was going to be televised that afternoon.
(which explains for the odd colors on Pitter Pat's face)
And since
The End Zone Bar and Grill
is the best sports bars in town, it seemed like an appropropriate location.
It's amazing how many TV sets they have in that place.
I counted 21 from where I stood taking this picture.
There's not a seat in the house that doesn't face a half a dozen
medium, large and extra large TV screens all at once !
WENG radio then got on the air and broadcasted the high spots of the event
during the breaks in the pre-game show as they interviewed
each of the participating shops.
And while I must admit I'm not that involved in spectator sports,
I do enjoy meeting new people and traveling to new places
and these event pages always lead me to both.
Here I ran into my friends from the
Englewood Executive Network
John & Margo Grimshaw,
are realtors for Michael Saunder & Company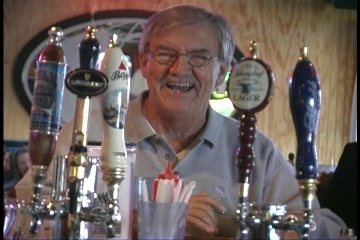 I thought this made a nice portrait of John
---
The following photographs are just my photo perspective of the quality
images I found in these small businesses as they shouted
"Hello Englewood"
and tried to stand out in the crowd.
These were the 3 other nice shops participating in the event.
Each of them offering a % of sales to charities along with other great prizes
including free food and drink for visitors...
I hope these pictures will inspire others to visit these quality shops
even if it's just to take a look around and say "Hello".
Be sure to tell em that you found them here !
Just click on any link below to
be instantly transported inside these quality businesses.